You might have heard about the 7.2 magnitude quake that hit the Philippines, particularly Bohol and Cebu last 15 October.
The quake brought much havoc on infrastructure in the provinces of Bohol and Cebu, isolating towns and villages. As of writing, death toll has reached 198. Rescue and relief operations are ongoing.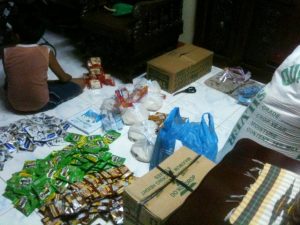 On 22 October, our home Bible study host in Clandeboye shared about the situation in Bohol through her friend who lives in Cortes, which is one of the townships that was hardly hit.
Her friend said that there are still villages that rescuers and relief haven't reached. She said that there's shortage of food and water.
She added that most of them are just staying outside their houses because they're either afraid or they don't have a house to go back to. Aftershocks continue everyday and yesterday (21 October) was strong at 5.4 magnitude.
The two friends talked about the possibility of generating help for people in the villages.
When our sister in Clandeboye shared to me her concern, we decided to get in touch with our immediate friends in South Canterbury and solicit for whatever amount they could give.
As the goal is to provide relief, we sent the amount we collected on Wednesday.
Our contact received it the following day and she immediately bought rice, noodles, canned sardines, coffee, Milo, Energen and some biscuits.
On 25 October, she and other volunteers packed the relief goods and ready it for distribution.
Please read the commitment of our contact in Cortes, Bohol, Philippines:
We are very grateful that despite the calamity Bohol has been through, there are heaven-sent people who generously extended their help. Even if I don't know most of you personally, thank you and be assured that this will reach those who are really needing it. These gifts could at least make some of our Boholanos smile!
We give thanks to the Lord God for creating such opportunity to help. Thank for mobilising people with generous and helpful hearts.
We give as we are able and we give joyfully because we fulfill Jesus Christ's command to love our neighbours as we love ourselves.
---