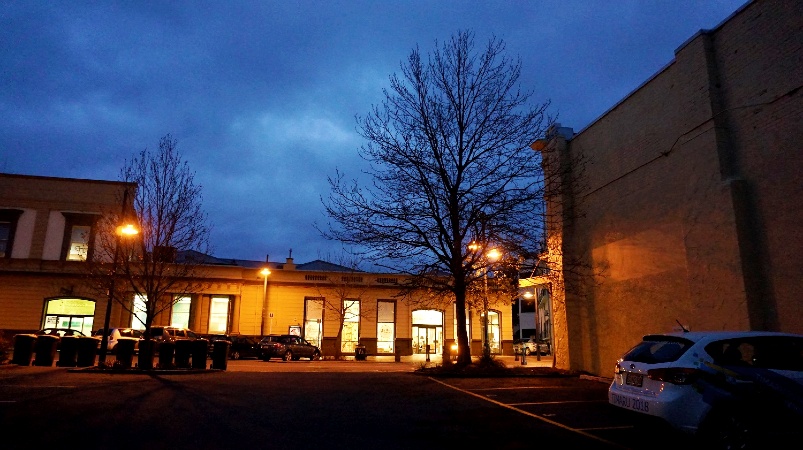 "Bare but not Barren" is my title for this photo I took on a winter's dusk, 16 June 2018.
I took the photo at the car park between the Timaru Herald and the Royal Arcade buildings.
What probably makes this photo more significant now is that the bigger tree with bare branches is now a barren stump. Yes, it's not there anymore, except the stump that marks its existence.
They cut the tree to give a better view of the "Bedrock of Life" mural that a known artist painted on the bare wall of The Royal Arcade (right portion of the photo).
So, the reality of the many ironies in our lives.
Have you had some realisations of many instances in our lives that we thought as a "bare and barren" place or situation, an unproductive area, we sacrificed a lot to make it a flourishing one? I had.
And it's like chopping a verdant and vibrant tree so that we can appreciate how we have made a bare wall vibrant with a mural captioned as "Bedrock of Life."
I'm only reflecting here in the light of the ongoing pandemic, thinking of what we are going through right now. No, I'm not raising a tree-hugging cause here.
I am reflecting on the fact about, who provides the essentials to sustain life.
The COVID-19 might have laid us bare but be assured that we aren't barren because eventually, in God's time, we will grow.
You might have lost a lot these days, you lost a loved one, job, business, opportunity. You might be thinking you have lost everything but always keep in mind that no one or nothing can make you barren.
The photo and reflection gave birth to a song, which melody I composed.
Later, our friend, Susan Butler, came up with the lyrics after I shared her my reflections.
We're still working out the recording of this song. 🙂
Meanwhile, may its message encourage you today.
---
Bare But Not Barren
Music: Jonan Castillon
Lyrics: Susan Butler
I
Beautiful, wonderful, counsellor
Prince of Peace, Our Mighty God
Lord of All, Our Merciful Majesty.
II
My Hope, my Truth
My Light, my Life
You can find solace in this awesome place
It is bare but not barren for you will grow
Bridge:
There is a well
You'll find answers there
In this place, water runs everlasting
A river flowing through here
A spring within that comforts me
My soul finds joyous rest.
III
I linger here, I find refuge
You softly whisper hope in my ears
Then troubles cease, no more fears
I don't despair
(Repeat II)