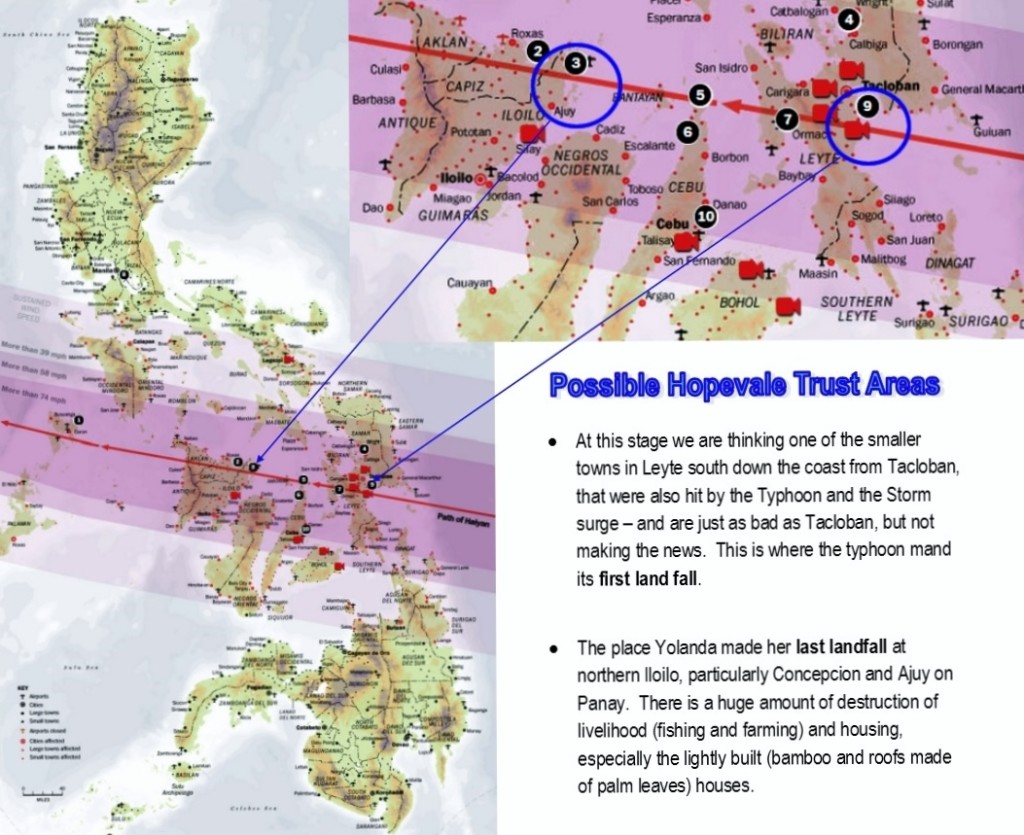 Hopevale Trust is looking forward to send funds to two places in the Philippines.
Typhoon Yolanda made landfall in five places. The first and the last places (Leyte/Samar and Panay) that Yolanda hit seem to have the most problems as they are more isolated.
The landfalls in the middle were near Cebu City, a major city that didn't get much damaged. So there are plenty of help available for those places in Cebu.
If you look at the map tracing the path of Yolanda, then Tacloban is #9 and the red dots south of it are the towns we are thinking of.
See #3 and just below it is Ajuy and farther to the north is Concepcion. They are on Panay Island.
At this stage we are thinking one of the smaller towns in Leyte south down the coast from Tacloban or Eastern Samar, that were also hit by the Typhoon and the Storm surge – and are just as bad as Tacloban, but not making the news. This is the first area the typhoon made land fall.
The second place is the last area the typhoon made landfall – Concepcion and Ajuy on Panay Island. There is huge amount of destruction of housing – especially the lightly built (bamboo and palm roofs) houses.
In both places a lot of people are just subsistence living, and now have no houses, no food, crops destroyed, boats for fishing destroyed, fishing ponds destroyed and because everything is wreaked – jobs are gone too.
They have lost absolutely everything, and in many cases loved family members too. So it is very hard times for them.
Sending our help to these places would mean support and help to alleviate their situation.
We are just contacting people whom we can trust to facilitate the buying and delivery of relief goods.
We have contacts in Panay (Ajuy/Concepcion) and we have established contact for Leyte/Samar.
We will posting blogs about the progress of our help to the Philippines.
---
Send your help now! Join the Hopevale Trust in helping the Philippines.
CLICK on the link below for details on how you may send your donations:
---
INFORMATION SOURCE: Ross Waugh's Message