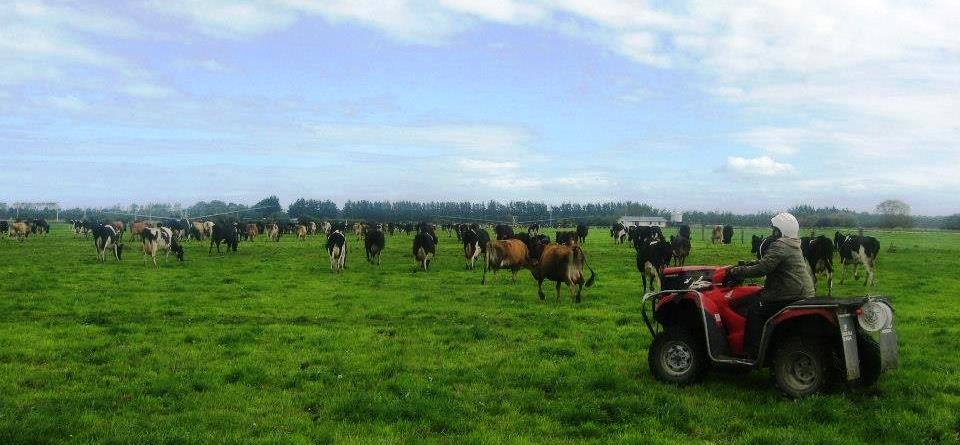 On 30 June afternoon, we were preparing to go to the home Bible study at Donehue Road, Clandeboye, Temuka when my phone rang.
The woman on the line is the host of our home bible study. She said that they would like to postpone the meeting because their children (4 and 1.5 years old) have fever and she and husband aren't feeling well too.
She's also concerned that Jadyn, our 7-yr-old daughter and also I and my wife might be affected.
Thinking about their location, a solitary house in a dairy farm, which neighbour is a drive away, I told her that there's need for us to come and pray for all of them.
I said we could just come for prayer and leave as I was also thinking of Jadyn's welfare. She had just gotten well from her recent asthma.
I also told her that Jewel prepared some special rolls and we don't want to miss sharing it with them.
Praying for the sick
When we arrived, we saw the father carrying one daughter, looking weak and resting her head on his father's shoulder. The younger child was sleeping on the couch.
We gathered and prayed asking for God's healing power for the two children.
The host invited us to stay a little longer for the shared meal we usually have before we study God's word. The host also prepared a Filipino dish, which made the invitation hard to refuse.
Surprisingly, after a few minutes, the two children stirred up, the little girl woke up and the older sister started to be active. Then she and Jadyn began playing together.
The host wife said that since the children are feeling better now, we will just continue with the Bible study.
Gathering prayer requests
Knowing that we will be leaving after eating for we have agreed through the phone that we won't be doing Bible study, I asked for prayer requests before I prayed for the food.
The wife and husband said they needed strength. They weren't feeling well after taking turns caring for their children.
The husband also shared that he needs all alertness and agility for tomorrow's chore.
He said that on Monday they're bringing in new heifers for milking training and this chore is quite tough.
As the heifers go through their first milking experience, they would kick and keep moving. A worker who's not alert might get hit on the arms or head.
So we prayed for the couple's well-being, asking for the Lord God to give the husband the alertness and agility he needs for the task at hand. I also prayed for the cows to be still and cooperative.
Rejoicing as God answered our prayers
Yesterday, 7 July, as we arrived at Donehue, I asked how were the children.
The host wife said that they had been better since we prayed last week's meeting.
Later, as we were about to leave, the husband said that the Lord God answered our prayers regarding his tasks.
He shared that last Monday the dairy farm owner requested some vets to take care of the milking training. The owner told him to just stand, watch and assist if needed.
He added that the heifers that day were so peaceful and cooperative.
Amazing! Truly God answers prayers.
I, Jewel and Jadyn were so happy and blessed for what God has done and will be doing. We were thanking and praising the Lord as we drove through the dark highway to home last night.