Thanks to Hopevale Trust for not only accepting the role as fund conduit but also for being on the forefront to raise financial support for the Philippines.
We are grateful for The Timaru Herald for publishing our concern to raise funds for the Philippines. Your publishing stories of what's going on makes the South Canterbury community aware and thus, stirring sentiments of support in many sectors.
The Filipino community responded too.
In behalf of the Multicultural Believers Fellowship, Pastor Jonan, Obet Morales and children, Aubrey and Archie went around Timaru on Wednesday night to 'pass the hat'.
Thanks to Filipinos and Kiwi friends who gave their help. The amount collected has been deposited to the Hopevale Trust account.
The South Canterbury Association of Filipinos has on-going fund raising campaign.
The Beaconsfield School held a mufti day yesterday and raised $265, which is a record-high amount for a regular mufti day fund raising.
Other schools in Timaru are set to hold mufti day in aid of the typhoon affected provinces of the Philippines.
Today, 15 November, the Temuka Primary School is holding a "Coin Trail for Victims of the Philippines"
St. Joseph's Timaru will raise fund for the Philippines on 28 November.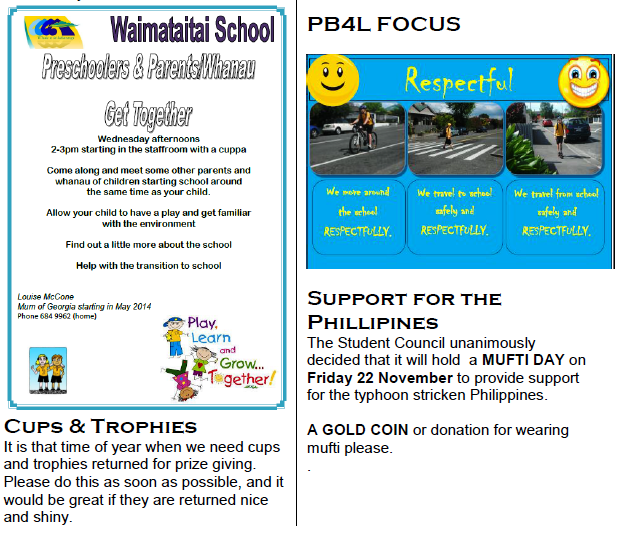 The Waimataitai School Student Council has set 22 November as mufti day to raise support for the Philippines
McDonald's Timaru staff members are also gathering contributions for the Yolanda victims.
Isn't this heartwarming to know how the people of New Zealand are responding to a distressed nation's call for help?
---
Send your help now! Join the Hopevale Trust in helping the Philippines.
CLICK on the link below for details on how you may send your donations:
---