A Presentation at the 'Grace Shared' Baptist Hui 2016
Here are the contents of my presentation during the 2016 Baptist Hui at Dunedin City Baptist Church on 4th November. I have also included some notes on a few slides.
Slide No. 1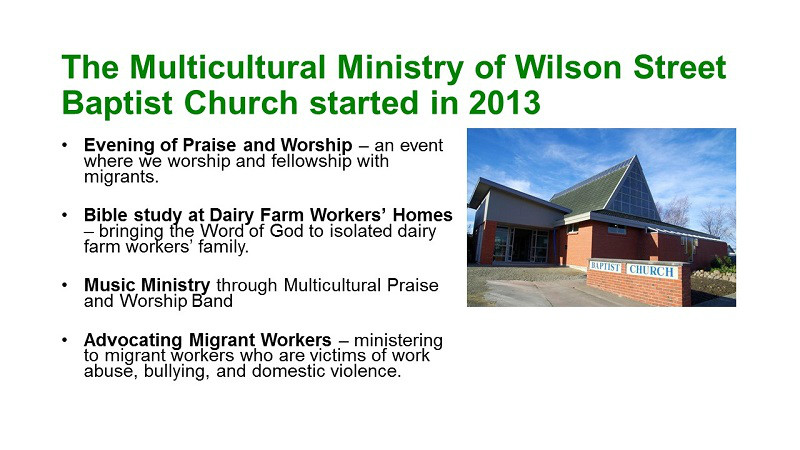 Slide No. 2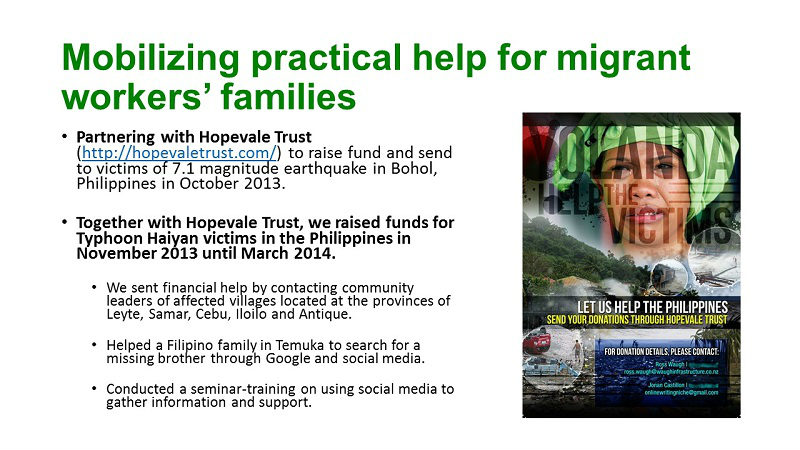 Slide No. 3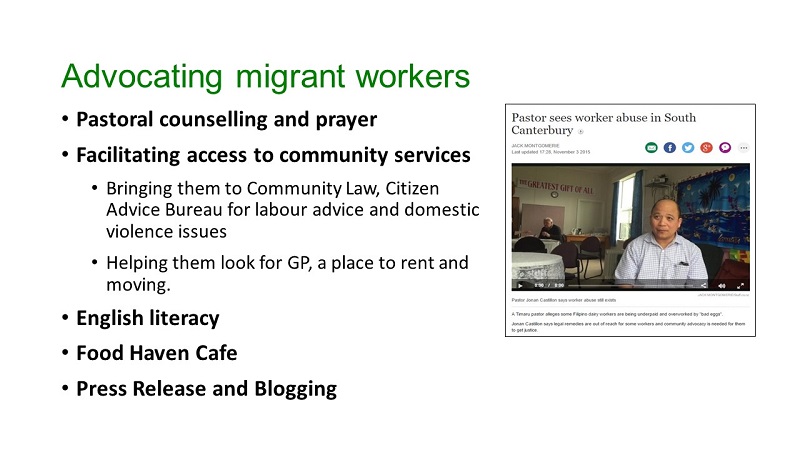 Holding Bible studies at dairy farm workers' homes enabled us to hear the struggles of migrant workers. Our advocacy includes facilitating them to access community services that are available.
Food Haven provides the opportunity for us to meet people from all walks of life. It gives us the chance to get to know other Filipinos from surrounding towns and cities.
The next three slides mention the lessons that we've learned from doing multicultural ministry.
As we are work-in-progress, it is important to identify the lessons we have learned along the way so we could identify our ministry direction and garner successes in this undertaking.
Slide No. 4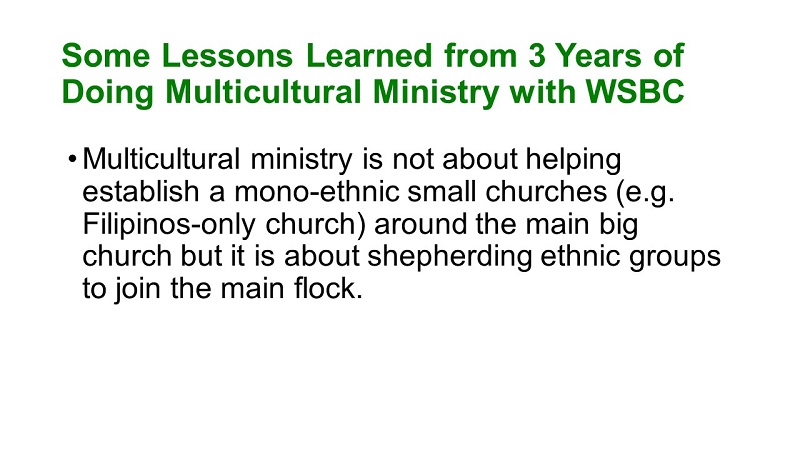 Multicultural ministry is not about helping establish a mono-ethnic small church (e.g. Filipinos-only church) around the main big church but it is about shepherding ethnic groups to join the main flock.
Slide No. 5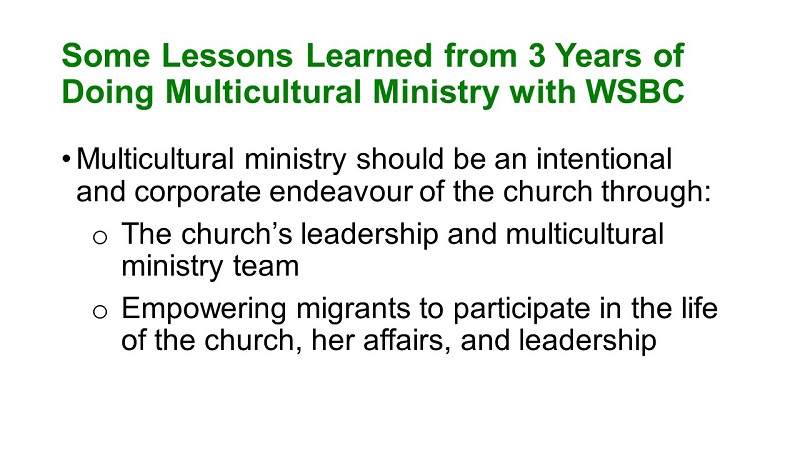 Multicultural ministry should be an intentional and corporate endeavour of the church through:
The church's leadership and multicultural ministry team
Empowering migrants to participate in the life of the church, her affairs, and leadership
Slide No. 6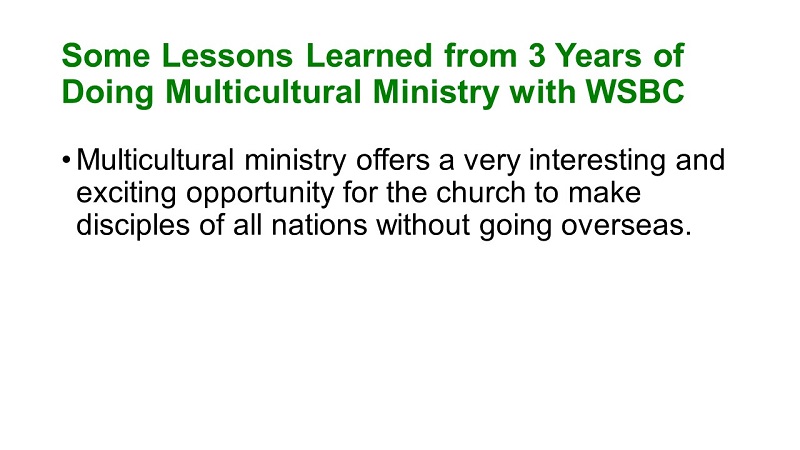 Multicultural ministry offers a very interesting and exciting opportunity for the church to make disciples of all nations without going overseas.
Slide No. 6 is one lesson that rings strong in my heart. What comes to mind is the history of the Convention of Philippine Baptist Churches.
In 1898, a Filipino living in Spain became a Baptist through the ministering of a Swedish missionary. They started the Baptist mission in the province of Iloilo, Philippines in 1900.
Based on latest statistics, the Convention of Philippine Baptist Churches has 879 churches and 600,000 members.
Thus, I challenge the New Zealand Baptist churches to engage in ministering to migrants, who in turn would become missionaries to their own people.
Slide No. 7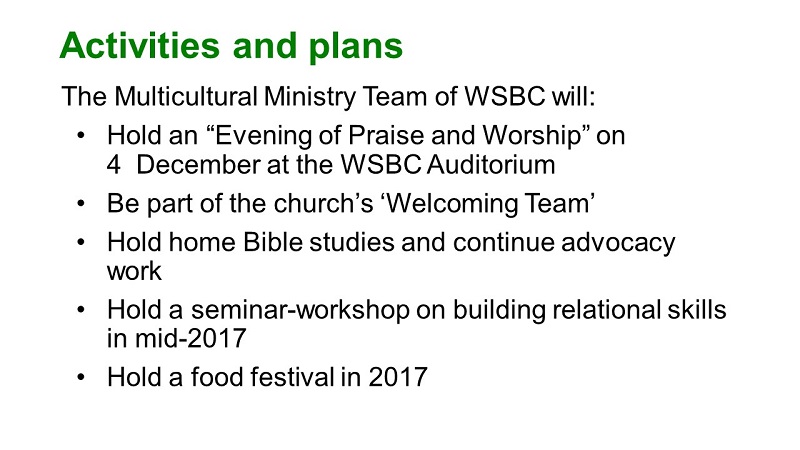 In our hearts, we dream of the vision in Revelation 7:9
After this I looked, and there before me was a great multitude that no one could count, from every nation, tribe, people and language, standing before the throne and before the Lamb. They were wearing white robes and were holding palm branches in their hands.
Please continue to pray for us and the ministry we're doing in South Canterbury.
PHOTO CREDIT: Diane King