There seems to be a lot of misinformation coming into New Zealand at the moment related to COVID and government responses.
Much of this information seems to be from the conspiracy theory parts of the internal USA debates, where each side seems to accuse the other of ever-increasing extremes.
Let's deal with the first one for the NZ context, with some fact-checking and analysis.
The conspiracy accusation: The government response to COVID and lockdowns has plunged NZ into TYRANNY and is preparing us all for the inevitable communist dictatorship.
What the Facts Say
There is a very useful Human Freedom Index updated annually by the Cato Institute, a highly respected international think tank – https://www.cato.org/human-freedom-index/2020.
The Human Freedom Index examines 76 distinct indicators to determine the relative freedom of countries. I have included screenshots of the relevant pages from the report below.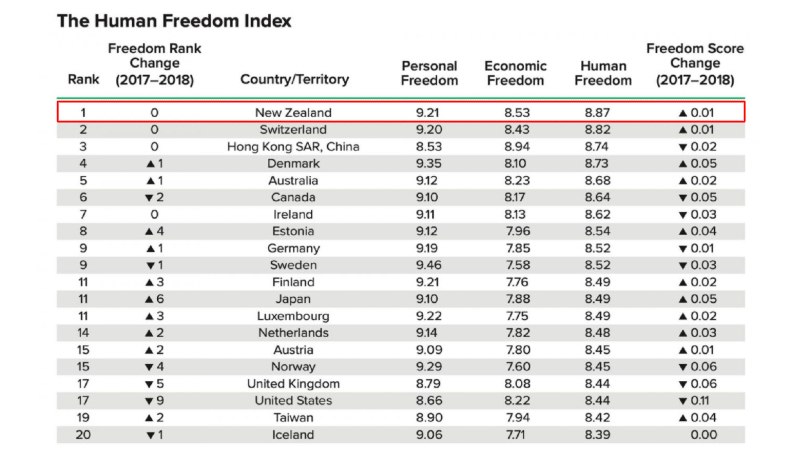 New Zealand ranks first; ranked the freest country in the world. The country has had this ranking since 2012 (before the current government). Before 2012, we were the second freest in the world.
As you can see from the screenshot – the UK and USA are ranked 17th equal.
Summary:
New Zealand has consistently been ranked the freest country in the world. There is no tyranny here in New Zealand.
The COVID restrictions are not tyranny, just a very sensible public health and policy response to protect people and our economy in the middle of a global pandemic.
Once these sensible restrictions are lifted, continue to enjoy living in the freest country in the world.
Counterfactual: The mere fact we can have this discussion in public and criticise the government with anything we like speaks of massive freedom.
In places where there is actual tyranny, you can't criticise the government in public without great risk to yourself.
NOTE: This article is a repost and has been published with permission. Please Contact Us if you want to know more.