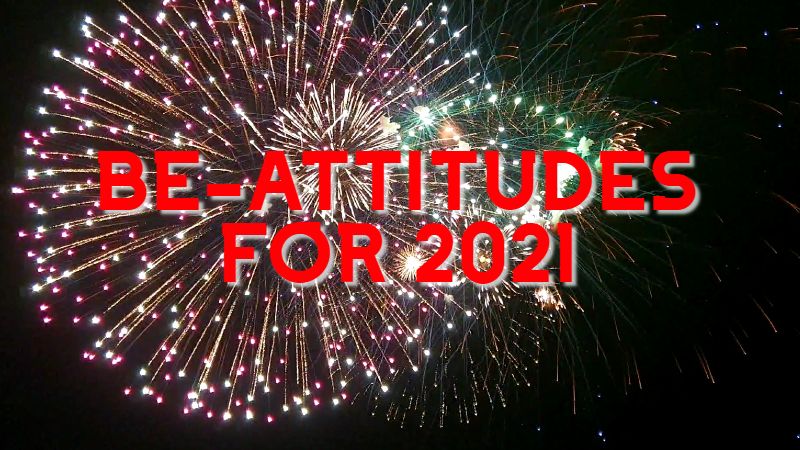 Another New Year has come. I'm sure many of us stayed late to watch the dawning of 2021, watch some fireworks display to welcome the new year.
What does this coming year have in store for us? Will there be any difference?
The past year has proven that we are not in control. Despite a well-laid plan, the pandemic disrupted everything.
Nevertheless, that doesn't mean we will not yearn for improvement and progress this year, agree?
Since Biblical times, humanity is always faced with the prospect of nations dominating another, injustices, materialism, corruption, and worst, a compromising morality that is trying to envelope the community of believers.
How will we, the church of the living God, speak to these realities? The scripture for today addresses this question.
Colossians 3:12-17 says

12 Therefore, as God's chosen people, holy and dearly loved, clothe yourselves with compassion, kindness, humility, gentleness and patience. 13 Bear with each other and forgive one another if any of you has a grievance against someone. Forgive as the Lord forgave you. 14 And over all these virtues put on love, which binds them all together in perfect unity.

15 Let the peace of Christ rule in your hearts since as members of one body you were called to peace. And be thankful. 16 Let the message of Christ dwell among you richly as you teach and admonish one another with all wisdom through psalms, hymns, and songs from the Spirit, singing to God with gratitude in your hearts. 17 And whatever you do, whether in word or deed, do it all in the name of the Lord Jesus, giving thanks to God the Father through him.
1. Be forbearing and forgiving (vs. 12-13)
Most non-Christians and Christians regard faith as primarily negative in content. They see the Christian faith as a set of DON'Ts!
In verse 12-13, Paul turns to a positive note, providing the runway commentary for a Christian fashion show.
The line of "clothing" that a Christian wears includes these virtues: compassion, kindness, humility, gentleness and patience.
To know the textures of these virtues, search them up on any decent commentary.
The primary emphasis here is that God chose us to go into His own closet to choose our wardrobe because our closets are full of bones!
2. Be loving (v.14)
I'm a person who hasn't got much fashion sense, but I read somewhere that the difference between a nice wardrobe and a stylish look is how you put them all together with "tied-together" accessories.
For Christians, love is the attitude that binds the virtues into unity. We can say that love isn't merely an emotion nor optional but comes as a requirement, a needed accessory.
Just as the Japanese art of Kintsugi illustrates, repairing broken pottery by mending the areas of breakage with lacquer dusted or mixed with powdered gold, silver, or platinum, so love covers the individual defects and idiosyncrasies in our faith so that we can be wholly beautiful and useful to God.
As verse 14 says, "And over all these virtues put on love, which binds them all together in perfect unity."
3. Be peaceful and thankful (v. 15)
Yes, we need to let the "peace of Christ rule in our hearts" and this peace refers to no one else but Jesus Christ, the Prince of Peace.
Letting Christ rule in our hearts means establishing a real relationship with him marked with obedience and honesty.
For sure, it will be easy for us to be distracted and waylayed by the people and events around us. Always remember that we are called to be peaceful and be thankful.
4. Be praiseful (v.16)
While having something "new" creates excitement in the church, especially in the area of praise and worship singing or the style of worship, I hope that it is deeply grounded on the message of Christ.
In this scripture, Paul proposes a basis for unity. If it is in harmony with the Word, it is appropriate for worship. Whether you sing psalms or gospel songs, praise choruses or anthems, have a praise team or a robed choir, is not important because the message of Christ is primary.
If the word of Christ is not in you or your praise, your praise is empty.
For all the things that we will go through this new year, worship is the only remedy and will always be relevant, for only God is the only constant priority in the history of the church and the life of every member.
Having that genuine attitude of praise and worship transcends any life situation.
5. Be purposeful (v. 17)
The name of Jesus Christ is the centre of our Christian living. His name provides both our identity (being a Christian) and our authority ("I do this in Jesus' name") for our conduct.
So, in everything that we do, whether in word or deed, do it all in the name of the Lord Jesus.
As a Christian acting in his name, we never cower nor bully, neither whine nor despair as you live and apply the BE-ATTITUDES for 2021 and the new years to come.
Conclusion
At the turn of the new Millenium, the world has been seen as a global village. Everyone could go as he/she desires to places all over the world.
Twenty years later, the coronavirus pandemic has caused nations to close their borders. Not only that, to prevent the spread of the virus in the community, governments imposed lockdowns on villages and individual homes.
In the past months, we have seen how churches went beyond their four walls through online worship. It's quite ironic to observe that when missionaries can't go anywhere because of the pandemic, the local churches expanded their ministry areas via online.
While it is true that we can't control what will happen this new year, clothing and wearing these virtues and having these BE-ATTITUDES are within our means and achievement through Jesus Christ, our Lord and Saviour.
Let us prepare adequately living these Be-Attitudes for the new year through Christ who gives us strength.
Happy New Year of our Lord 2021!